These seniors sure have a lot of nerve
Everybody knows religion can be a touchy subject but the Unitarian Church managed to create a whole other conversation with its 2014 awareness and fundraising calendar.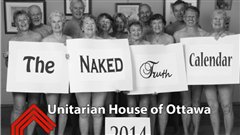 Don't they look fabulous. Aren't seniors awesome?
Not to be outdone, here's another fine group of seniors (ahem) baring it all for a good cause. These folks are raising funds for kids.